Super Quiet, Low Wattage Ventilating Fans
Other features:
Easy installation
Rust proof paint treatment on galvanized steel body
Built-in damper to prevent back draft
Thermal fuse protection
Contemporary grille design
UL listed for tub/shower enclosure when used with GFCl branch circuit wiring
Meets Washington State Ventilation and Indoor Air Quality Code
Manufactured in certified ISO 9001 facilities
Product Codes: FV-20VQ2 FV-35VQ2




---


Super Quiet, Low Wattage Fan/Light Combination

WhisperLite™ models feature:

The WhisperLite™ Series is a new generation of ventilating fan and light fixtures that provide a super-quiet ventilation and warm color corrected lightning in an energy efficient fan/light combination. Panasonic's two Quick Start (flicker-free), 13 watt compact fluorescent lamps output over 1700 lumens (equivalent to about a 100 watt incandescent bulb).

Panasonic ventilating fans combine super quiet operation with low energy consumption and long service life, an answer to today's indoor ventilation needs.

SUPER QUIET: WhisperLite™ models have sound ratings of only 0.5 - 1.5 respectively, certified by HVI. Reducing noise results in longer run times, better indoor air quality and reduced building maintenance due to moisture damage.
ENERGY EFFICIENT: WhisperLite™ condenser fan motors are specially designed for low power consumption.
LONG LIFE: WhisperLite™ models are designed for long run times or continuous operation. Panasonic condenser fan motors feature permanently lubricated metal bearings and are rated for 30,000+ hours of operation.





Other features: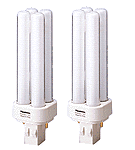 Easy installation
Rust proof paint treatment on galvanized steel body
Built-in damper to prevent back draft
Thermal fuse protection
Contemporary lighting grille design
UL listed for tub/shower enclosure when used with GFCl branch circuit wiring
Meets Washington State Ventilation and Indoor Air Quality Code
Manufactured in certified ISO 9001 facilities
2 Panasonic Quick Start (flicker-free), 13 watt energy efficient lamps included
Product Code: FV-07VQL FV-08VQL FV-11VQL
---


Quiet, Through the Wall Ventilating Fans

WhisperWall™ through-the-wall ventilating fans are a new concept in room ventilating, designed for easy installation and quiet operation.

The WhisperWall™ is quiet and efficient. It operates at a low 0.45 sones with 0.1 amp input wattage, and its contemporary design makes it suitable for both residential and commercial buildings.

An adjustable WhisperWall™ duct and cut-out template are provided to enable quick and easy installation.

WhisperWall™ features

Quiet operation - 0.45 sone
Low input watt - Annual electricity is only $4.5 (8 hours/day 365 days running @ 10 cent/Kwh)
Easy installation
Condenser motor - long life (30,000 hours continuous running)
Flexible duct adjust to wall thickness
Thermal fuse protected for safety
Contemporary grille design
Manufactured in certified ISO 9001 facilities
Smooth, curved housing improves air flow and reduces noise
Product Code: FV-08WQ1